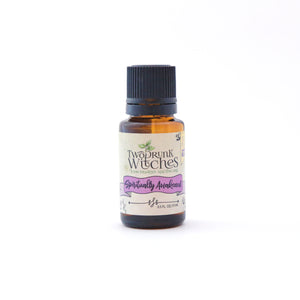 Spiritually Awakened 100% Pure Essential Oil Blend (.5 fl. oz./15 mL)
Regular price $20.00 Sale
Our uplifting Spiritual Awakening blend combines the refreshing, calming essence of bergamot and the soothing properties of lavender with the brightness of sweet orange, resulting in a lively combination!
Sweet Orange essential oils is known for instilling a sense of peace and relaxation and inspiring cheerfulness, creativity and feelings of abundance! Combined with bergamot and lavender, these three oils work together to create feelings of joy, clarity, and balance.
Ingredients: Sweet Orange, Bergamot, Lavender
Important Note: It is critically important to take the time to educate yourself on how to incorporate essential oils into your life in the safest way possible. Essential oils should be avoided if pregnant or trying to conceive, and we also suggest they be avoided around children or pets. Due to their high potency, they can also interfere with medications and are not recommended for people who are sensitive or allergy-prone.