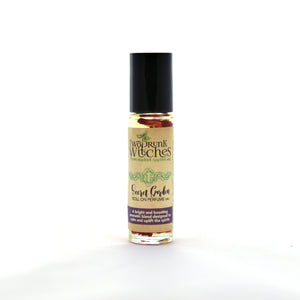 Secret Garden Roll-On Perfume (.3 fl. oz./10 mL)
Regular price $18.00 Sale
"If you look the right way, you can see that the whole world is a garden." -Frances Hodgson Burnett, The Secret Garden
Our Secret Garden Roll-On Perfume contains a special combination of aromatic essential oils specially chosen for their balancing, uplifting effect on the mind and mood (not unlike a stroll through a vibrant, brimming garden!).
With its clean and refreshing notes, grapefruit is said to help promote relaxation, balance emotions, instil a sense of optimism and inspire creativity.
Bergamot's green, citrusy scent is celebrated for its relaxing effect, helping to release feelings of grief, anger and frustration. It is said to improve the mood without overstimulating.
Ylang ylang is well-known for its aphrodisiac qualities and is said to promote feelings of sensuality and self-confidence. Exotically floral, it is also known for its ability to release negative emotions and produce a sense of euphoria and harmony.
Lastly, rose geranium is celebrated for its relaxing effects and ability to relieve tension and anxiety. It's rosy, earthy scent lends a sweetly soothing quality that serves to balance the emotions and calm the mind.
Our Secret Garden Roll-On Perfume comes in a handy compact tube that fits easily in your bag, pocket or drawer, and is wonderful to have on hand during challenging times. We like to apply it on our wrists, necks and behind our ears as needed.
Ingredients: Caprylic/Capric Triglyceride (Fractionated Coconut Oil), Simmondsia Chinensis (Organic Jojoba) Seed Oil, Essential Oils
30% organic content. This product is paraben-free, phthalate-free, gluten-free and vegan-friendly.
IMPORTANT: Test on a small patch of skin if you are sensitive or allergy-prone, and discontinue use if a reaction occurs.
Note: This product will be discontinued once sold out.