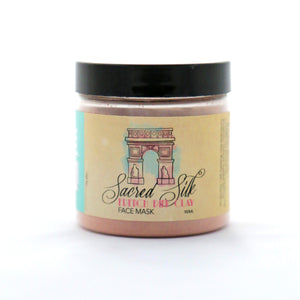 Sacred Silk French Pink Clay Face Mask (3.4 oz./100 mL)
Regular price $24.00 Sale
Designed to cleanse and nourish, our Sacred Silk French Pink Clay Face Mask will leave your face looking radiant and your skin silky soft.
French pink clay is a soothing, gentle ingredient rich in silica, and is well-suited to sensitive and mature skin types by working to soften and promote elasticity.
This blend also includes bentonite clay, which is formed from volcanic ash and, when water is added to it, forms a negative electrical charge that is said to pull toxins from the skin. The addition of seaweed powder works to deeply cleanse and balance the skin's moisture, while the high iron oxide content of Australian red clay revitalizes the skin's appearance.
We've also included one of our favourite ingredients in this face mask, a combination of frankincense resin, which is gently exfoliative and is said to nourish the skin, as well as frankincense essential oil, known for brightening and revitalizing.
To use: Mix the powder in a glass or plastic bowl (metal will impact the electrical charge!) and add a small amount of water to create a smooth paste (you can adjust to your preference – some people like a thick mask, others like just a thin layer). You can also add a very small amount of oil, like jojoba or sweet almond, to add moisture to the blend.
Gently apply the mix to your face, avoiding the eyes, noise and mouth areas. Allow the mask to set for approximately 15 to 20 minute (you'll feel it tightening as it dries), then use warm water to gently rinse it away (you can also gently massage the skin with a soft cloth to help remove it).
We recommend following with a balancing toner and hydrating moisturizer (like our Sacred Silk facial serum!) for best results. With any face mask, we also recommend giving yourself at least a few hours in advance of when you need to be somewhere, as the clarifying action can make your skin red for a short time.
Ingredients: French Pink Clay, Bentonite Clay, Seaweed Powder (Ascophyllum nodosum), Australian Red Clay, Frankincense Resin (Boswellia spp.), Essential Oil
This product is vegan-friendly.
IMPORTANT: Test on a small patch of skin if you are sensitive or allergy-prone, and discontinue use if a reaction occurs.