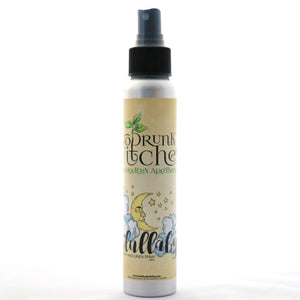 Lavender Lullaby Body and Linen Spray (4 fl. oz./120 mL)
Regular price $16.00 Sale
"Without enough sleep, we all become tall two-year-olds." –JoJo Jensen, Dirt Farmer Wisdom
Our Lavender Lullaby Body and Linen Spray is infused with the florally aromatic scent of lavender, well-known for its ability to help combat stress and induce a deeper, better quality sleep.
This spray can be used to lightly mist your body and pillow before bedtime, and is a great option to have on hand for kids who have trouble sleeping.
Lavender Lullaby Body and Linen Spray can also be used as a refreshing facial mist, or as a room freshener and laundry basket spray.
Ingredients: Organic Aloe Leaf Juice (Aloe Barbadensis), Phenoxyethanol, Witch Hazel Water (Hamamelis Virginiana), Organic White Willow Bark Extract (Salix Alba), Tea Tree Leaf Oil (Melaleuca Alternifolia), Polysorbate 20, Organic Alcohol, Tetrasodium Glutamate Diacetate, Essential Oils
92% organic content. This product is paraben-free, phthalate-free, gluten-free and vegan-friendly.
IMPORTANT: Test on a small patch of skin if you are sensitive or allergy-prone, and discontinue use if a reaction occurs.