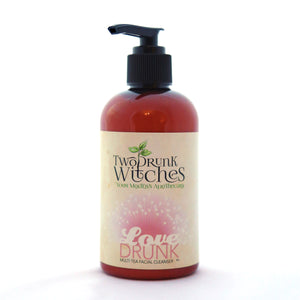 Love Drunk Multi Tea Facial Cleanser (8 fl. oz./240 mL)
Regular price $18.00 Sale
Our creamy, non-foaming Love Drunk Multi Tea Facial Cleanser will make you fall back in love with your daily skincare routine!
This is a gentler approach to cleansing that helps to retain your skin's moisture and while giving it a nourishing boost. Antioxidant-loaded rooibos, green and white teas are this blend's star ingredients, working to replenish and protect. The addition of intoxicating ho wood (a renewably-sourced essential oil with a similar profile to rosewood) and rose de mai essential oils serves to further soothe and re-hydrate, keeping your skin silky soft. This blend is particularly well-suited to mature or sensitive skin types.
For best results, we suggest rinsing your face first with lukewarm water, then using a nickel-sized amount in your fingers or on a soft cloth and gently massaging the cleanser into your face and neck in circular, upwards motions. Rinse with lukewarm water, pat dry with a soft towel and follow with a balancing toner and your favourite moisturizer.
Ingredients: Organic Aloe Leaf Juice (Aloe Barbadensis), Organic Alcohol, Organic Olive Fruit Oil (Olea Europaea), Emulsifying Wax (Cetyl Alcohol, Stearyl Alcohol, Polysorbate 60), Glycerin, Organic Rooibos Leaf Extract (Aspalathus Linearis), Organic Green Tea Leaf Extract (Camellia Sinensis), Organic White Tea Leaf Extract (Camellia Sinensis), MSM (Dimethyl Sulfone), DMAE Bitartrate (Dimethylaminoethanol Bitartrate), Vitamin E (Tocopherol), Sunflower Seed Oil (Helianthus Annuus), Organic Neem Seed Oil (Melia Azadirachta), Organic Rosemary Leaf Extract (Rosmarinus Officinalis), Organic Sunflower Seed Oil (Helianthus Annuus), Vitamin A Ester (Retinyl Palmitate), Vitamin C Ester (Ascorbyl Palmitate), Provitamin B5 (DL-Panthenol), Xanthan Gum, Essential Oils
87% organic content. This product is vegan friendly, paraben-free, phthalate-free and gluten free.
IMPORTANT: Test on a small patch of skin if you are sensitive or allergy-prone, and discontinue use if a reaction occurs.