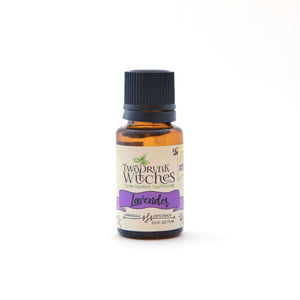 Lavender 100% Pure Essential Oil (.5 fl. oz./15 mL)
Regular price $15.00 Sale
Lavender is one of the most well-loved scents for its ability to instil a deep sense of peace and promote a restful sleep. The scent is wonderfully calming to the nervous system, helping to dispel irritability and anxiety. Lavender's familiar scent evokes a nurturing, restorative energy that serves to comfort feelings of sadness or melancholy.
Lavender is one of the few essential oils that can be used "neat" - meaning it doesn't require a carrier oil - and can therefore be added directly to a soothing bath (it's said to alleviate muscle pain and tension) or applied to the temples to help ease headache symptoms (though we recommend a less-is-more approach, as the scent is strong and can lead to headaches for some people when used in excess). 
As an anti-inflammatory, lavender essential oil is also a well-known treatment for minor burns, and can help cool the discomfort of sunburns (ouch!). It's another one used frequently in insect repellants and can also be applied to bug bites to combat itchiness and swelling.
Ingredients: Lavandula officinalis (Original: France)
Important Note: It is critically important to take the time to educate yourself on how to incorporate essential oils into your life in the safest way possible. Essential oils should be avoided if pregnant or trying to conceive, and we also suggest they be avoided around children or pets. Due to their high potency, they can also interfere with medications and are not recommended for people who are sensitive or allergy-prone.