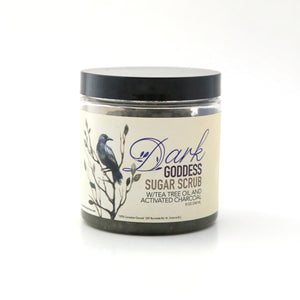 Dark Goddess Sugar Scrub with Tea Tree Oil and Activated Charcoal (8 fl. oz./240 mL)
Regular price $14.00 Sale
Empower your inner goddess and shed what no longer serves you with our Dark Goddess Sugar Scrub! 
Did you know raw honey contains a plethora of skin-loving benefits? As a natural humectant, honey draws and retains moisture from the air for an ultra-hydrating boost. Plus, it's rich in antioxidants, nutrients and enzymes that, combined with its anti-inflammatory and antibacterial properties, work to nourish and heal the skin.
Our Dark Goddess Sugar Scrub combines the goodness of raw unpasteurized honey with organic raw cane sugar to gently exfoliate the outer layer of your skin. Lightweight grapeseed oil – rich in vitamin E! – provides gentle, balancing hydration. Meanwhile, the addition of tea tree 100% pure essential oil and activated charcoal serve to detoxify the skin and clarify the complexion. 
Body scrubs are an excellent way to rejuvenate the surface of your skin by removing dead cells, allowing your skin to better absorb the benefits of your favourite moisturizer. What's more, scrubs can be used to stimulate circulation and lymph flow to aid your body in ridding itself of toxins and promote a healthy immune system. 
Our Dark Goddess Sugar Scrub can be gently applied with your fingers in a warm shower for an all-over experience, or lightly massaged into the skin with a soft cloth for a more delicate approach. Normal skin types can also use this scrub as a face exfoliant, though we don't recommend it for troubled or sensitive skin. Follow with your favourite moisturizer for optimal results.
Ingredients: Organic Cane Sugar, Vitis vinifera (Grapeseed Oil), Unpasteurized Honey, Activated Charcoal, Essential Oils
IMPORTANT: Test on a small patch of skin if you are sensitive or allergy-prone, and discontinue use if a reaction occurs.