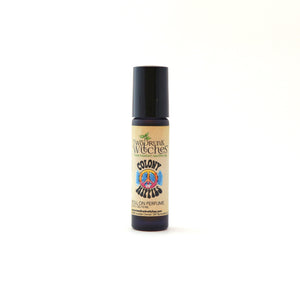 Colony of Hippies Roll-On Perfume (.3 fl. oz./10 mL)
Regular price $18.00 Sale
Based on the popularity of our Colony of Hippies collection, our Colony of Hippies Roll-On Perfume contains a groovy combination of essential oils specially chosen for their ultra-grounding benefits. 
The woodsy, honey-like scent of high-vibrational frankincense essential oil works to draw the mind into the present and instill a sense of calmness. In fact, frankincense has been used over the centuries for religious and spiritual purposes, and continues to be used to aid meditation, visualization and spiritual attunement. 
We love ylang ylang for its ability to promote feelings of confidence and self-esteem. It's exotic, floral scent is said to help open the heart, release negative emotions and produce feelings of euphoria and harmony.
Lavender lends this combo its soothing properties, but it's patchouli that inspired the name for this blend, evoking the free-loving far-out vibes of the flower child era. There's a reason patchouli's so synonymous with the free spirit culture – this sweet and earthy scent is known for its ability to combat feelings of stress and anxiety by centring the mind and slowing the breath.
Our limited release Colony of Hippies Roll-On Perfume comes in a handy compact tube that fits easily in your bag, pocket or drawer, and is wonderful to have on hand during challenging times. We like to apply it on our wrists, necks and behind our ears as needed.

Ingredients: Caprylic/Capric Triglyceride (Fractionated Coconut Oil), Simmondsia Chinensis (Organic Jojoba) Seed Oil, Essential Oils
30% organic contact. This product is paraben-free, pthalate-free, gluten-free and vegan-friendly.
IMPORTANT: Test on a small patch of skin if you are sensitive or allergy-prone, and discontinue use if a reaction occurs.