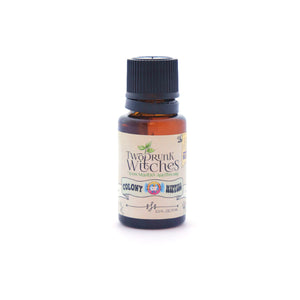 Colony of Hippies 100% Pure Essential Oil Blend (.5 fl. oz./15 mL)
Regular price $25.00 Sale
Yep, that's right, friends! We've turned our much-adored Colony of Hippies Calming Spray into a unique essential oil blend you can now add to your home diffuser! 
The woodsy, honey-like scent of high-vibrational frankincense essential oil works to draw the mind into the present and instill a sense of calmness. In fact, frankincense has been used over the centuries for religious and spiritual purposes, and continues to be used to aid meditation, visualization and spiritual attunement. 
We love ylang ylang for its ability to promote feelings of confidence and self-esteem. It's exotic, floral scent is said to help open the heart, release negative emotions and produce feelings of euphoria and harmony.
Lavender lends this combo its soothing properties, but it's patchouli that inspired the name for this blend, evoking the free-loving far-out vibes of the flower child era. There's a reason patchouli's so synonymous with the free spirit culture – this sweet and earthy scent is known for its ability to combat feelings of stress and anxiety by centring the mind and slowing the breath.
Ingredients: Frankincense, Ylang Ylang, Lavender, Patchouli
Important Note: It is critically important to take the time to educate yourself on how to incorporate essential oils into your life in the safest way possible. Essential oils should be avoided if pregnant or trying to conceive, and we also suggest they be avoided around children or pets. Due to their high potency, they can also interfere with medications and are not recommended for people who are sensitive or allergy-prone.